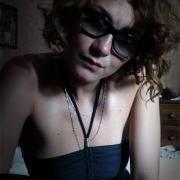 My name is Marianna Azzurra Greco, also known as Nina.
I was born and raised in Manduria, a small town in Southern Italy.
In 2001, I finished my high school studies (liceo Classico F. De Sanctis) and left the South to go to Milan where I obtained a Bachelor Degree in Communication Design at Politecnico di Milano.
While there, amongst many assignments, I made layouts for books published at Poli.DESIGN.
After graduation I spent some months in London working as booking and tour manager for musicians and dj.
I 2007, I went back to Milan to be an Art Director Intern at Saatchi & Saatchi Healthcare.
After 5 month, I moved to Tribe Communication. Working with Francesco Gemelli I realized
graphic design was truly my passion.
In September 2008, I worked as Graphic designer for Radl & under the creative direction and mentoring
of Christoph Radl. He gave me the opportunity to work on assignments for La Rinascente,
Tar Magazine, Nannini, Alessi, Palazzo Grassi, Massimo De Carlo, Istituto Svizzero Italiano
and Pinacoteca Giovanni e Marella Agnelli.
Now I live near the sea and work as freelance.